師傅感言
From Sifu
同學感言(一)
From Fellows (1)
- Kim Au
- Ena Chiu
- Gail Caldwell
- Peter Yii
- Nina Sugii
- Judy Chan
- Phoebe Chow
- CM & Lorna To
- May Chow
同學感言(二)
From Fellows (2)
- Lydia Luk
- Ken & May Kaan
- Peter Cheong
- Alice & Ronald Siao
- John So
- Doris Yip
- Prudence Yip
- Marian Yip
- Teri Heung
憶少鵬 In Memory of Liu Shao Peng
李錦濤 Laurens Lee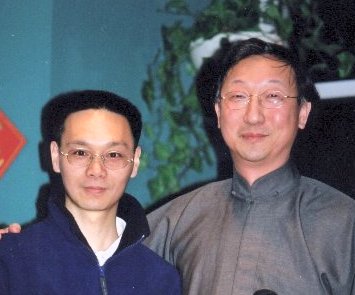 直到現在,我依然清晰地記得劉少鵬君第一次來上課的情景。當日在列治文中華文化中心太極拳班,上課前,有一年青漢子進入課室,帶點害羞,恭敬地站在我面前,叫我一聲「師傅」。班中同學,大多是中年人,年青的他,引起我的注意,和他交談數句,跟着就開始上課了。
幾堂課下來,我已察覺到少鹏的學習進度飛快。他年輕、記憶力好、身體協調佳,每次教的招式,很快就能上手。他從不缺課,上課熱情,學習認真,如有失誤,誠心接受批評,努力練習好才停手。下課回家,將新學的招式,練至滾瓜爛熟,再來上課。而且更發覺他對太極拳有敏銳的領悟能力,可以很快掌握每個動作的內涵和要領。于是派他在課堂中,除了學習外,撥出時間幫助我輔導新學員、學習有困難的或進度缓慢的同學。他十分樂意接受任務,更願意跟隨我到其它社區上課,協助教學。
少鵬為人謙虛,秉性和順,樂意助人。同學們都喜歡接受他的輔導,他雖然不善詞令,却有親和力,大家不但愛戴他,更認他為學習楷模。相見時,都暱稱「阿鵬」或尊稱「師兄」。輔助教學,同時更努力鑽研練習,教學相長,數年間,太極拳知識、技藝,大幅度提升,將太極拳和各種器械套路,掌握到高水平。拳會有活動,或受邀請外訪,往電視台錄影節目等,大家以他馬首是瞻。表演拳械,他是要角。同學們如知道他在何處表演,會專程前往欣賞。
可惜天不從人願,正值壯年,準備在太極拳更上層樓之際,少鵬傳出病訊,使我們擔心和焦慮。治病期間,他顯露卓越的智慧,沒有怨天尤人,而是沉着樂觀應對,積極配合醫生治療外,更常常與我對話,探討太極拳的哲理。如精神和體力許可,馬上回來上課,與同學們切磋,大家都受他的豁達和勇氣感動。今天少鵬終于離我們而去,他親切的笑容、矯健的身手、誠懇的態度和奮斗的精神,長存我們心中。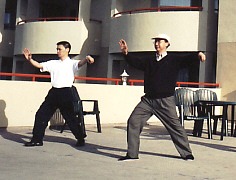 Until now, I still remember clearly Shao Peng's first day in my Tai Chi class, held at the Chinese Cultural Centre in Richmond.  A young man wearing a shy smile on his face entered the classroom, came up and acknowledged me "Sifu".  He soon caught my attention, as most of the students were usually older. We chatted for a while before class started.
After a few lessons, I found Shao Peng to be a quick learner.  Young, physically well coordinated with a good memory, he grasped the concept and new movements rapidly.  He was never absent from class and attended with enthusiasm. Whenever I pointed out his mistakes, he would take the constructive feedback sincerely and strive to perfect his techniques with continuing effort.  Each time he learned a new movement, he would always practised at home until he knows it thoroughly by heart before coming to the next class.   Shao Peng also had a strong sense in understanding quickly the essence and inner meaning of each Tai Chi movement. As a result, I asked for his assistance to guide those junior students with difficulties or progressing at a slower pace.  He was most willing in helping out and thus joined me in assisting students in other community classes.
With a humble, kind and always-helpful disposition, Shao Peng was respected by all members.  Though not especially expressive, everyone took to him as their mentor and loved to learn from him.  They greeted him "Ah Peng" or "Sihing*".  He explored the art of Tai Chi seriously and assisted in teaching cordially, thus, his knowledge and skills in Tai Chi grew by leaps and bounds within a few years.   Having accomplished his high level of skills in both bare hand form and weapon forms, everyone looked upon him as the leader for club activities, and demonstration invites in various occasions or television program.  Some members would even make a special trip to go and watch his demonstration.
Unfortunately, in the prime of his life while pursuing a higher level of Tai Chi, Shao Peng was diagnosed with serious illness. We were all worried and most anxious.   During treatments, his display of wisdom showed neither complaint nor blame, but faced all medical situations patiently and optimistically.  Other than cooperating with the doctors, he spent much time discussing and exploring with me Tai Chi theory and concept. When feeling better, he would immediately return to class and practise Tai Chi together.  We were all inspired by the courage and confidence he had shown in life.  Today, Shao Peng has left us, yet his friendly smile, his excellence in Tai Chi, his sincerity and perseverance will live in our heart forever.

* Sihing: a respectful title for a senior male colleague