同學感言(一)
From Fellows (1)
- Kim Au
- Ena Chiu
- Gail Caldwell
- Peter Yii
- Nina Sugii
- Judy Chan
- Phoebe Chow
- CM & Lorna To
- May Chow
同學感言(二)
From Fellows (2)
- Lydia Luk
- Ken & May Kaan
- Peter Cheong
- Alice & Ronald Siao
- John So
- Doris Yip
- Prudence Yip
- Marian Yip
- Teri Heung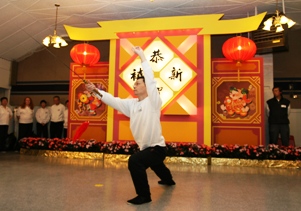 Peng,
You were always an inspiration to watch demonstrating your dedicated Tai Chi skills. You are missed and will always be remembered.
鵬,

每次觀看你表演你醉心的太極拳技藝,都會獲得巨大鼓舞。你永遠在我們的思念和記憶中。
- Kim Au
Liu Shao Peng was a value and respected member of Kam To Tai Chi Chuan Association. His death has saddened all of us. We missed him greatly.

Peng and I became acquaintances through Tai Chi classes. Soon I discovered that he was a quiet, peaceful and appreciative young man. He approached Tai Chi with great interest, always gave full attention to each lesson. Combined with regular practices, Peng was able to made remarkable progress in a few years. Later he told me that during his sickness, he continued practice Tai Chi in his hospital room. Peng was truly an admirable Tai Chi devotee.

Many characteristics of manhood were demonstrated in the life of Liu Shao Peng. He was responsible husband and caring father, a courageous and endurance patient, a sensitive and humble Tai Chi teaching assistance. Having Peng as my friend truly adds brighter radiance to my life.

劉少鵬是錦濤太極拳會一位備受重視和尊敬的會員。他的逝世令我們很傷心,也很思念他。

我和鵬在太極班上認識,很快我就發覺他是一位寡言、平易近人和令人激賞的年青人。他熱愛太極拳,每一課堂都全心全意學習,加上經常練習,鵬在幾年間便有超卓的進步。後來他告訴我在患病期間,他在醫院也有練習,鵬真是一位令人欽佩的太極愛好者。


劉少鵬在他一生也表現了他的男子氣概。他是一位負責任的丈夫和充滿關懷的父親,一位勇敢和有忍耐力的病人,也是一位善解人意和謙虛的太極助教。能和鵬成為朋友,為我的生命增添光釆。


- Ena Chiu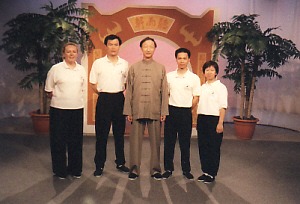 Peng, along with Lemus was our "senior student" teacher when Peter Yii and I first started at the Cambie Street Roundhouse Community Centre in 1998. Peng taught us well in spite of our language barrier. He was personable, caring and patient. We were a Tai Chi family. I miss him.

當一九九八年Peter Yii和我開始在甘比街弘毅社區中心上課,阿鵬和阿昌已經是我們班上的資深學員和助教。雖然我們之間有點語言隔膜,但鵬很用心教導我們。他平易近人,又有愛心和耐心。我們同屬一個太極的大家庭,我懷念他。

- Gail Caldwell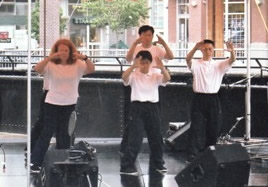 A great guy and a very talented martial artist who was taken from us way too soon. He will be missed by all of us at Kam To Tai Chi, but never forgotten. God Bless!
一位了不起的朋友和才華橫溢的武術家,可惜太早離開我們了!錦濤太極拳會各人將懷念他,永不忘記。 求主保佑!
- Peter Yii
He was a talented and gentle person. We really miss him having around.
他是一個有才華及隨和的人。沒有他在我們當中,我們十分思念。
- Nina Sugii
四月長週末一個和煦又陽光燦爛的下午,約好了鵬嫂嫂到她們家去。在花店選購了小小一束鮮花,特別請店長為我挑上顏色柔和的粉黄、粉橙及一點點嫣紅,當然要襯上很多很多的滿天星,這花束令人感到溫暖。也許鵬嫂嫂怕我認不得路吧,我車子拐彎時已見她站在屋邨外,我趕緊下車迎上去。

進屋見两個孩子都在家,都長高了,姐姐清秀漂亮,弟弟倒是有點害羞。客廳壁爐上擺放着鵬師兄的照片,我奉上鮮花,默默祝禱。鵬嫂嫂坐在餐桌前對我細說有關鵬師兄在家鄉治療過程,過去幾個月裏,為了照顧鵬師兄及看顧孩子,她中加兩地往返,人明顯地消瘦了,睡覺也不怎麽安寧,說着說着強忍的淚水不能自己地,她哭了,细細碎碎地數算着,重覆地說:怎麼會這樣突然呢?他走得太快了。我有點手足無措,不知該說什麼慰藉的話來讓她寬心。

我也有點分神,回想到鵬師兄和大夥一起練太極拳的日子……剛進太極班時,見師傅多會叫他做點示範式樣,他很靦覥、含蓄,但不推辭,動作到位而利索,跳躍輕盈敏捷,很令人眼前一亮。他樂於帶動新同學,但他不太善於詞令,心一急,解說練拳方法時連「東莞」口音都急出來了,我還取笑他呢!但,他也有沉着靈活應變的本領,一次在戶外表演大刀時,不知怎地,表演途中大刀失手落地,說時遲,那時快,他立時轉式一招「蛇身下勢」迅速拾起大刀,颯颯生風,繼續演練全套刀法,毫無怯懦慌張,既畢,台下掌聲雷動,我也為他鼓掌喝彩!

2003年,師傅接受內陸Osoyoos 多元文化交流邀請,到當地拜訪及表演,我也不怕冒昧請纓同往,師傅、師母更帶同鵬師兄及Phoebe 一起。鵬師兄除借出私伙七人車,更充當司機,把我們歡歡喜喜送到演出塲地,滙同Phoebe及師傅演練多套拳劍功夫後,又平平安安送大家返抵溫哥華的家。一些零碎片斷,讓我也在回憶中。一旦聽說他害病了,人消瘦了,返來太極班上課也中斷了,師傅說他回家鄉治病,因為家鄉高堂健在,照料他也來得方便。

回過神來,鵬嫂嫂為我酙上香茶,並說大女兒已完成中學課程,正趕着編寫 International Baccalaureate Program,所以挺忙的,下學年會入讀UBC Sauder School of Business,小兒子也在讀九年級了。她說孩子懂事讓自己寬心一點,而她自己更把鵬師兄親手寫的偈語拿給我看,她說:這是他給他自己最大的鼓勵,也是他後期平靜渡過的倚仗。


1) 星雲語
正視快樂的短暫,不迴避痛苦的現實,在快樂中保持清醒,在痛苦中積極應對,這才是智慧人生。

開卷有益, 讀書,可以徹悟人生道理,讀書可以洞曉世事滄桑,讀書可以廣濟天下民眾,捧一幀書冊,看史事五千,品一壼清茗,行通途八百,無須走馬賽上,你便可看楚漢交兵,無須程門立雪,你便可聽師長之諄諄教誨。


2) 聖嚴語
你眼中的他人的快樂,並非真實生活的全部,每個人生命都有欠缺,不必與人作無謂的比較,珍惜自己擁有的一切就好。

在這裹謹借奉法師開示祝福鵬嫂嫂闔府平安!

On a warm, sunny afternoon in April, I arranged to visit Peng's wife. I bought a small bouquet of fresh flowers from a floral shop and specially requested the florist to pick for it some soft colors: pastel yellow, pastel orange and a bit of bright red. That of course had to go with a lot of baby's-breath. The bouquet could warm the heart of those who see it. Perhaps, Peng's wife feared that I couldn't find the place. By the time my car turned the corner, she was already standing outside her living compound. I hurriedly got off the car to meet her.

The two children were at home. They had grown much taller. The older sister was delicate and pretty; the younger brother was shy. Peng's photo was placed on the fireplace. I offered up the bouquet and quietly prayed. Sitting in front of the dining table, Peng's wife slowly told me in detail Peng's treatment of cancer in his home town. In the past months, in order to take care of Peng and the children, she had been travelling back and forth between China and Canada. She had visibly lost some weight and had not been able to sleep well. Her tears ran down her cheeks uncontrollably while she spoke. As she continued to recall the bits and pieces, she repeatedly uttered:  "How could it be so sudden?" "How should he be gone so soon?" I had no idea as to how to console her.

I was also distracted as my mind went back to the time when I practised Tai Chi with Peng, and other students … when I first joined Tai Chi class, Sifu often asked Peng to demonstrate the movements for us. He was shy and reserved, but he didn't refuse. His movements were precise and fluid; his jumps were quick, light and graceful. It was very impressive to everyone. He was always happy to help new students, although he was not good in expressing himself. When he was anxious in his explanation of a movement, his Dongguan accent would come out. And I would laugh at him. Peng had the ability to handle situations calmly and creatively. One time, while he was performing outdoor with the broad sword, he dropped the sword on the ground by accident. Quicker than a wink of the eye, he changed the movement to the style of "snake creeps down" and scooped up the sword swiftly.  There was no fear or panic. He continued on his performance with the sword soughing with vitality. When he finished, the audience burst into thunderous applause. I also clapped and gave him my loud cheers.

In 2003, Sifu accepted an invitation to visit and perform for a multicultural exchange in Osoyoos. Unabashedly, I volunteered to go along. Sifu and Simo brought along Peng and Phoebe. Peng drove his 7-seat van and became our chauffeur driving us happily to the performing venue. After the performances of Tai Chi chuan and Tai Chi sword with Sifu and Phoebe, he drove us safely back to Vancouver.  Bits and pieces of the past came to mind. Later I heard that he had become ill and losing weight. Eventually he stopped coming to class. Sifu told me that he had returned to his home town to get treatment because his parents could conveniently care for him.

Coming back to my visit to Peng's wife, she served me tea and told me that her older daughter has now graduated from high school and is taking the International Baccalaureate Program. She is currently very busy and will attend UBC Sauder School of Business next term. Her younger son is now in Grade 9. Her mind is at ease because they are sensible and intelligent. She showed me the Buddhist sayings (Jiyu) that Peng had personally written out for her.  She said they had been his strongest encouragement and had given him peace at the last stage of life.

1) Master Hsing Yun
Face up to the fleeting nature of happiness; do not avoid painful realities.
Stay awake in happiness; respond positively to suffering.
This is the wisdom of life.

The Benefit of Reading
Reading makes you recognize fully the principles of life
Reading provides knowledge of the ever changing affairs of human life
Reading helps widely the populace of the world
Holding a book, you can see history of five thousand years; 
Sampling a pot of fine tea, you can travel eight hundred miles.
Without riding on a horse, you can see the battle between Chu and Han.
Without standing in the snow to wait upon Master Cheng, you can listen to the earnest teachings of revered teachers.

2) Master Sheng Yen
What you see happiness in others is not the whole in real life;
Every life has its deficiency. It is not necessary to vainly compare with others.
All is good as you cherish what you already have.

I would like to take these sayings of the Masters to bless the family with peace!


- Judy Chan
阿鵬,認識你十多年了,在太極拳這個大家庭裏,你一直是我尊敬的師兄、親切的朋友。你受同學尊敬愛戴,不單是因為你學拳比我們早和技藝較高,而是你的一言一行都顯出師兄的風範。你尊師重道,認真練習,對後學循循善誘、耐心教導。記得與你推手,常常被你推倒,你卻不厭其煩指出我的錯處。多年來我們外訪示範,有時緊張或失誤,你總是在旁鼓勵和安慰。在我生活忙碌的時候,你又勸我要多留給自己一點安靜的時間……
阿鵬,當我計劃年初回國一行,已期待與你見面,並和你相約好一起練練拳、談談太極。雖然練拳的約會成空,但安慰的是,能在你最後的日子,為你送上各同學真誠的祝福。看着你在痛苦當中仍然緊握我們送給你的慰問咭,我知道在你心裏是何等珍惜與各同學之間的情誼。
阿鵬,過往練拳的情景只能保存在記憶之中,但你遺留給我們的卻成為我們的榜樣,推動我們在太極路上繼續向前。多謝你!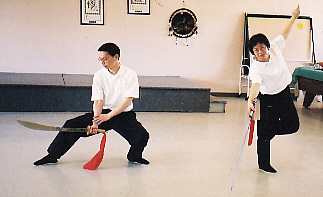 Peng, we knew each other for more than ten years.  In our large Tai Chi family, you were always my respected "big brother" and sincere friend.  You were much loved and esteemed by all of us, not because you started early in practising Tai Chi or were more skilful but for setting a role model with your words and actions. You respected Sifu, practised earnestly and helped guide the junior students patiently. When practising push hand exercise together, you would always point out my mistakes. When my nerve caused me to slip in demonstration, you would always give me support and comfort. When I was overly busy, you would always advise me to make quiet time for myself...
Peng, while planning to visit China early this year, I was looking forward to seeing you and practising Tai Chi together.  Sadly this didn't materialize, yet it's a comforting thought that I was able to bring, in your last day, the warmest wishes from all the classmates.  Though in pain, the way you clenched onto our customized card signified how deeply you cherished our friendship.
Peng, the memory of practicing Tai Chi together will reside with me always.  Your exemplary manner will motivate us to keep moving forward on the road of Tai Chi.  Thank YOU!
- Phoebe Chow
與鹏師兄最後一次的通訊

在2011年11月14日收到鵬師兄的電郵,說道:「人生就是這樣苦中作樂,快樂的時光往往是短暫的,現實生活中不如意的事總是纏擾着,所以在痛苦中要積極應對,在生活中要珍惜那暫短的快樂,這樣才會過得充實有意義。」

鵬師兄除了毫不保留地說出他所領悟到的太極拳心得外,還說出他對人生的體驗,真是值得我們銘記於心。


An email from Sihing* Peng on November 14, 2011: "Seek joy in the hardship of life. Happy times tend to sweep by. Misfortunes are too apt to fill reality; hence we brace ourselves against adversities. Life can be meaningful when the blissful moments are cherished".

Not only did Sihing Peng share with me his knowledge of Tai Chi, but also his outlook on life.  All of that, I shall be mindful.

- C.M. & Lorna To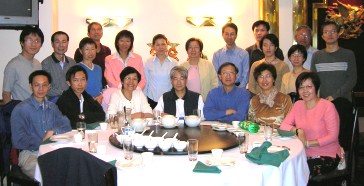 Peng was a kind and soft-spoken family man with a down to earth nature.

He practised his Tai Chi seriously, thus, it was always a pleasure to watch his performance at the Annual Chinese New Year Celebration. Whenever and wherever help was needed, Peng would be there.

We'll all miss Peng dearly.  
鵬是一個親切、說話溫和、腳踏實地和重視家庭的人。 他認真練習太極拳,所以每次在周年春節聯歡晚會觀看他的表演都感到賞心悅目。無論何時何地有需要,鵬總會幫忙。我們深深懷念阿鵬。  
- May Chow
* Sihing: a respectful title for a senior male colleague