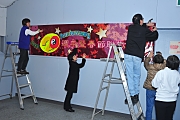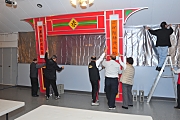 本會於二零一六年三月十三日在本拿比 Capitol Hill Community Hall 舉辦二十週年紀念暨新年聯歡晚會。籌備組同學於數月前已開始策劃和製作《二十週年紀念特輯》,組織合唱團,排練演唱《太極頌》。當日正午開始,大家興高采烈,同心協力佈置會場,又為晚上節目預演,一切進行得如火如荼。 
The party was held on Sunday, March 13, 2016 at the Capitol Hill Community Hall, to celebrate Chinese New Year and the 20th Anniversary.  Preparation started months ago, including the production of the "20th Anniversary Celebration" video, establishment of a members' choir, and practice for the song "Ode to Tai Chi".   When the day arrived, organizers assembled at noon at the Hall, decorated the venue, and rehearsed the evening performances.  Spirit was high.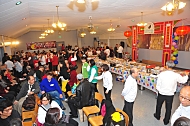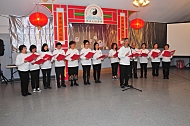 傍晚時分,天不造美,風雨交加,但惡劣天氣沒有破壞和阻擋同學們,朋友們和他們家人的參與熱情,晚會開始時,可說是高朋滿座,座無虛設,氣氛熱烈。晚會由聚餐開始,之後大合照,播放《二十週年紀念特輯》,同學組成的合唱團,演唱《太極頌》等,進入佳境。
The door was opened in early evening, but the weather turned worse with wind and rain.  This did not reduce the enthusiasm of the members, their family and friends.  Soon the Hall was filled with people socializing with one another.  The party started with a pot-luck dinner, followed by the group photos, the video show, and the choir singing "Ode to Tai Chi".  These pushed the atmosphere of the party to a new height.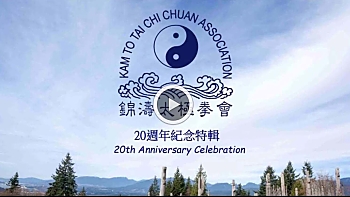 師傅在演講中指出,錦濤太極拳會這個大家庭,經過多年實踐,已建立清晰的路向和明確的目標,勉勵同學們以太極鬆柔的原則,努力練習,强身修心,務求邁向恬淡無為,氣定神閒的境界,而達至身心康泰。
In his speech, Sifu said over the years, Kam To Tai Chi Chuan Association has managed to find the right direction and set a firm goal.  Under guidance, members strive to work on the "Essentials and Relaxation forms of Tai Chi" in order to attain tranquillity in mind and body.  The realm of physical and mental equilibrium is our ultimate intent.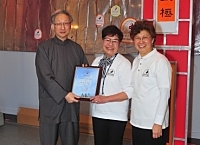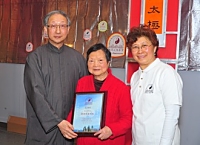 師傅向先宗師鍾大振之夫人--鍾師太,致送感謝狀,表達對宗師之尊敬。又致送感謝狀給駱敬才先生,向駱先生多年來對晚會會場的佈置和貢獻致謝,該感謝狀由駱夫人代表接收。師傅又向本會資深同學致謝,並頒發紀念狀,表揚他們在會務和教務上的貢獻。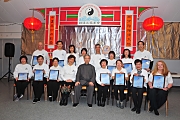 Sifu then presented a Certificate of Gratitude to Mrs. Tchoung, wife of the late Master Tchoung Ta-Tchen, as means to pay respect to the Master.  Another Certificate of Gratitude was presented to Mr. Ken Lok, which Mrs. Lok received on his behalf, for his many years' contributions to the party venue decorations.  Sifu also thanked senior members for their contributions to the Association and the classes.  Each received a Certificate of Appreciation.
同學們演練太極拳、太極劍、太極棍後,繼而是師傅好友,陳明初師傅、許務本師傅、羅偉顯老師、劉渭賢老師和師傅自己作太極拳示範,將晚會推向高潮。最後是大抽獎,賓主共歡盡興,晚會完滿结束。
After the performances of Tai Chi Chuan form, Sword form and Stick form by members, the highlight of the evening were demonstrations from each of four Tai Chi Chuan masters and finally Sifu.  These guests, namely Master Ming Chor Chan, Master Mo Boon Hui, Master Wai Hin Law, and Master Wai Yin Lau, were also good friends of Sifu.   The party ended with a grand lucky draw. Everyone had a great time.